Student Voice / Government
We know that many of our students have passionate views about their School, their place within it, and indeed about the world beyond. We want those passions to have a voice. We also know that many of our students have real leadership talents, and others are always looking for ways to develop their leadership skills. We want our students to believe, as we do, that democracy and the democratic process is the best way to get their voices heard, and their ideas put into action.
At Gable Hall we have both a student voice group (Years 7-11) and a sixth form leadership group (Years 12 and 13), including Head Boy, Head Girl and their deputies.
Head Boy / Head Girl 2023-2024: David Akinterinwa and Ayomipasi Lyun
Deputy Head Boy and Girl are Hayden Harris Scott and Rebecca Searle and Michael-Ann Williams:
Student Voice - The student voice group is comprised of subgroups such as LGBTQ+, Environment, Culture and Diversity and SEND. In their regular half termly meetings they discuss pressing issues which may be affecting Gable Hall.
They have made decisions such as:
Leading the collection for donations to The Ukraine Appeal
Ensuring that they are all Anti-Bullying Ambassadors
Changing the playground environment
Student Government - Our Student Government are members of our school community that embody our aim to 'be the best we can be.'
Student Government and Leaders were appointed following an interview process in which they had to detail their ambitions for the school and their peers.
What roles can I apply for?
There are many roles within the Student Government, including deputy roles. These roles cover many subject areas across the school, inclusive of most departments. Below are a list of the current 'job titles' available to apply for.
Head Boy/Head Girl and Deputies
Minister for STEM
Minister for Sports and Games
Minister for Arts and Culture
Minister for Social Sciences and Humanities
Minister for Charities and Community Liaison
Minster for International Relations and Languages
Minister for Marketing/Social Media
Minister for Mental Health Anti Bullying and Student Welfare
Minister for Diversity and Inclusion
The Student Government is organised as below: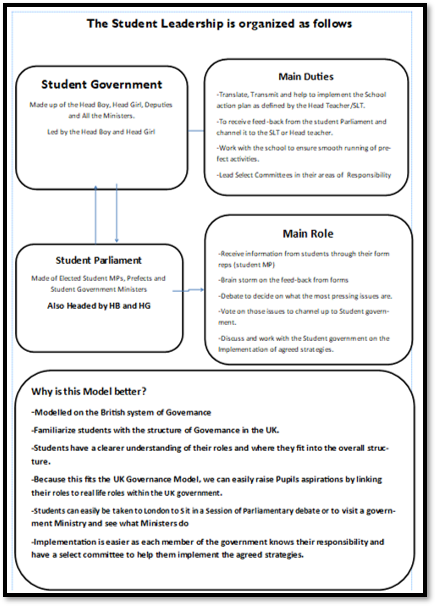 Expectations of the Student Government team:
Good time management
Communication (public speaking)
Enthusiastic, driven and imaginative
Approachable by all at school
Liaise with staff and students
Productive nature - the ability to put your words into actions
Leadership skills
The roles you have to play:
Continuation of charity work - put on events and strengthen connections with organisations
Public speaking - Open evening, assemblies and Student Council
Run student Parliament- includes reporting to SLT meetings
Create the yearbook
Ambassador for the school - speak to visitors and welcome guests
For further information click Here to see our application process.
Head Boy - David Akinterinwa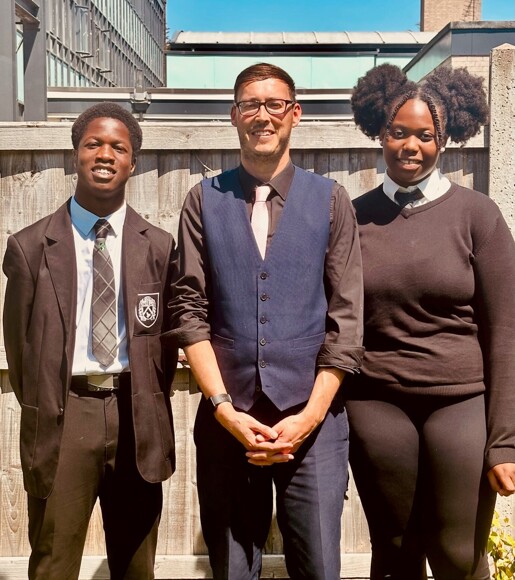 David Akinterinwa - Thank you for taking the time to come here tonight. I'm David, the current head boy of this school, and, having come here, I love tonight with a strong sense of what Gable Hall has to offer your child.
Coming into Year 7 was terrifying. Walking past giants in the corridors, big buildings towering above me, and having to deal with significant time-related changes.
I remember when I first joined this school; I was only quiet and shy with not much confidence. If, at that point, you had said in five years' time I would be standing here in front of you, I'd have taken it as a joke. And that is what this school has helped me to do: to discover more of my capabilities.
This school has given me greater confidence, allowing me to become an independent, successful, and capable learner.
Based on my personal experiences, I view this school as adventurous. How is it adventurous? Well, because this school goes above and beyond to aid your child in exploring their passions through career events and a range of extracurricular activities.
Education is not merely about textbooks and exams; it is about shaping young minds, nurturing their passions, and equipping them with skills, knowledge, and resilience that will enable them to thrive in an ever-changing world. Every student here has a unique story to tell. Some of them excel in academics, while others in sports or the arts. Each student has their own strengths and interests, and here, in our school, we celebrate and encourage individuality.
For those who have consistently shown dedication and hard work towards their education as well as expressing our core values, we celebrate and encourage them individually by offering them: a postcard home for carers to be updated on their child's achievements, Student of the Week, CARR points which stand for Collaborative, Active, Reflective, & Resilience - they grant you many chances to go on trips, to receive queue jumps, and much more.
Our teachers play a key role in shaping the minds of our students. They are committed to nurturing an environment of curiosity, critical thinking, and creativity. This ranges from your form tutor who sees you every morning, giving you guidance and advice on everyday life around school; your subject teachers who are generous enough that if you don't understand a topic, they will take time to explain; the pastoral team, who are always available for you to drop in for a chat and work through problems you may be experiencing.
The "Gable Way," founded on the values of readiness, respect, and safety, has made Gable Hall a healthier environment for everyone. Our highly passionate and devoted Head of School has taken Gable Hall under his wing, by developing the quality of our education and welfare, allowing students to achieve their true potential, assuring us all that this school will be heading in a better direction.
Thank you for your time to listen to what we stand and strive for.
Head Girl - Ayomiposi Lyun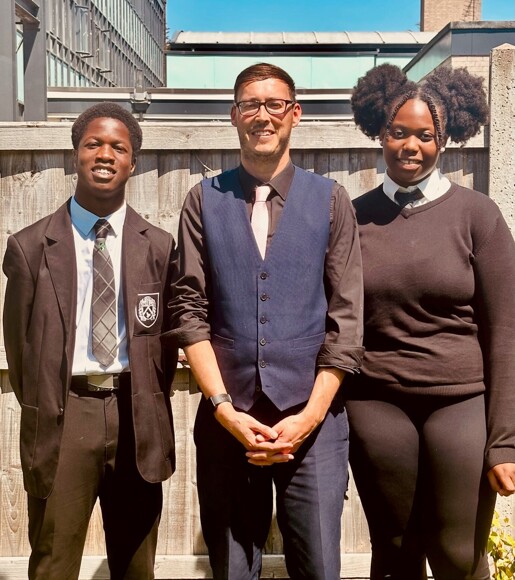 Ayomiposi Lyun - I am thrilled to be standing here today as the current Head Boy of Gable Hall. It was a daunting idea to move to Gable Hall absolutely terrifying in 2021. Like most of you here, the idea of changing schools was absolutely terrifying. Yet, moving here completely changed my perspective. For example, I was able to make new friends with people who had completely different backgrounds than me, and I received support from teachers here, whether it was about my concerns for my future or even who I was going to sit with at lunch. I mean, sure, transitioning from one school to another may seem nerve-wracking and scary at first. But I am promising you that moving here will be worth it.
Gable Hall offers a field of opportunities just waiting for you to explore. As a young adult, I've always loved singing and acting, so when I arrived here, I was amazed to find out that Gable Hall produces a musical once a year performed by students across the school, from Year 7s to sixth formers. Within the last few years, the school has produced a showcase that included songs from 'Six,' 'Chicago,' 'Matilda,' and iconic musicals like 'Legally Blonde' and this year, 'Sister Act.'
Gable Hall also prides itself on its diverse range of after-school clubs, which include sports like football and basketball, art clubs, gardening clubs, coding clubs, and STEM, which stands for Science, Technology, Engineering, and Maths clubs. All these activities that I have previously mentioned will give your children important life skills such as commitment, teamwork, and leadership, which will be beneficial in the future.
On top of this, at Gable Hall, we believe that experiences help us grow as individuals. So, we offer a variety of school trips both in Britain and abroad, like our yearly skiing trips, reward trips at the end of the school year, and subject-based trips that are spread across the year.
To end, I'd like to draw your attention to the display next to me and the three words on it: "Ready, Respectful, Safe." This is our school's motto, and it means we want all students to strive to get the most they can from their lessons in a safe and progressive environment.
Now, if you're still not convinced that Gable Hall is the school for you, I can confidently tell you that you won't regret attending here. This is because from my personal experience, it has been a place of support, love, and adventure.
Thank you for listening, and I hope you all have a wonderful day!