Wellbeing Introduction
Welcome to the Gable Hall Wellbeing Page.

Click Here to view our Mental Health & Emotional Wellbeing Policy
At Ortu Gable Hall we believe in the in the importance of looking after ourselves, not only our physical health but our wellbeing too.
Often, when young people are struggling, they are told to see a professional. Students don't often get much advice about how they could help themselves. We have created this website to provide you with some information, activities and links to help ensure we all know how to look after ourselves.
Here at Gable Hall we want you to feel your absolute best so that we can all be ready to thrive and tackle life's challenges together. So far, we have a wellbeing room where we hold our mentoring and counselling sessions and a nature reserve to give more fresh air to our initiative for healthier minds. We also have a comprehensive Wellbeing Tutor Time Programme that supports the mental health and wellbeing of our pupils.
We are proud to provide the following strategies in school.
Comprehensive Mental Health and Wellbeing policy.
Mindfulness group.
Dedicated days/week to acknowledge and inform about different wellbeing topics.
PSHE Curriculum.
Carousel of self-help & wellbeing literature available in library.
Dedicated table for anxious students in canteen.
Mental Health Focus Group.
Introduction to Mental Health evening for parents.
Students have access to many different counselling services and health professionals.
Breakfast club.
Fortnightly check-in with looked after children.
Introduction to mental health training for TAs to support & mentor students with anxiety.
Supporting Peers
When a student is suffering from mental health issues, it can be a difficult time for their
friends who may want to support but do not know how. To keep peers safe, we will
consider on a case by case basis which friends may need additional support. Support will be provided in one to one or group settings and will be guided by conversations by the student who is suffering and their parents with whom we will discuss:
What it is helpful for friends to know and what they should not be told
How friends can best support
Things friends should avoid doing / saying which may inadvertently cause upset
Warning signs that their friend needs help (e.g. signs of relapse)
Additionally, we will want to highlight with peers:
Where and how to access support for themselves
Safe sources of further information about their friend's condition
Healthy ways of coping with the difficult emotions they may be feeling.
Level of support Provision - Universal Support
All students have a Form Tutor who acts as the first point of contact for students
All students spend 150 minutes a week with their Form Tutor. This time consists of a daily 30 minute morning tutor time session and weekly one hour PSHE lesson
All students have access to the support of their pastoral team: Head of Year, Head of Key Stage and a Behaviour Mentor
All students can request access to the well-being room
All students can attend the medical/welfare room
Students have access to the safeguarding email address that students can use to request support or communicate any concerns
Safeguarding / Mental Health section of the website
Safeguarding posters
High quality in class support – all members of staff are responsible for the emotional wellbeing of students
A whole school nurturing approach – support and opportunities for social and emotional development
Culture within the school that values all students, allows them a sense of belonging and makes it possible to talk about problems in a non- stigmatising way. Assemblies further reinforce this and raise awareness of mental health
A clear behaviour policy, with consistent application from all staff, so students feel safe in a calm environment and know what to expect in every lesson
A reward system which recognises positive behaviour, personal and academic achievement, effort and other achievements. Rewards achievement certificates are awarded as reinforcement and encouragement.
Level of support Provision - Additional Support
Key worker mentoring - Students who require additional support with their well-being are allocated a key worker
Welfare cards - these are given to students who have medical or menta health needs. The card is shown to the teacher, who then uses the discreet on-call alert system on their PC, to request that a member of on-call collects the students to ensure they receive the appropriate support
Peer mentoring – students who have been trained work with younger students to provide mentoring.
Level of support Provision - Specialist Support
School counsellor - students who require therapeutic/mental health support will be referred to our school counsellor for assessment and an allocation of counselling sessions
Individual Educational Plan (IEPs) - are used for students have multiple well-being needs and who are receiving different types of support and/or across multiple agencies
Individual Health Plans (IHPs) - are used for students with medical conditions, including mental health conditions
Pastoral Support Plans (PSPs) - are used for students who are at risk of permanent exclusion
Well-being room intervention programme - our student well-being room offers mindfulness interventions, drop in sessions.
Level of support Provision - External Agency Support
Educational psychologists' assessment - for students whose behaviour/academic progress/mental health has been identified as requiring specialist assessment
Thurrock substance misuse issues support services
Early help referral - early intervention service based (see Thurrock safeguarding thresholds for support)
Child protection referral - concerns that a child has been harmed or is at risk of being harmed
CAMHS - referrals for students with mental health needs that cannot be adequately supported through wave 1-3
Behaviour Support Services - mentoring and support from a behaviour specialists, for students at risk of PEX.
Wellbeing Champions
In addition to our existing pastoral team, a number of staff have been trained in Mental Health First Aid. Our Wellbeing Champions wear the green ribbon badge (the symbol of the Mental Health Foundation). Students can easily identify these staff when they need to talk about their wellbeing. To find out more about Mental Health First Aid visit: https://mhfaengland.org/.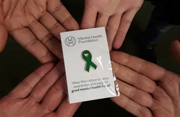 If you feel you require more immediate assistance, please click here to see a list of 24/7 crisis lines for mental health trusts in Thurrock, as well as other sources of support.