Wellbeing Introduction
Welcome to the Gable Hall Wellbeing Page.

Click Here to view our Mental Health & Emotional Wellbeing Policy
At Ortu Gable Hall we believe in the in the importance of looking after ourselves, not only our physical health but our wellbeing too.
Often, when young people are struggling, they are told to see a professional. Students don't often get much advice about how they could help themselves. We have created this website to provide you with some information, activities and links to help ensure we all know how to look after ourselves.
Here at Gable Hall we want you to feel your absolute best so that we can all be ready to thrive and tackle life's challenges together. So far, we have a wellbeing room where we hold our mentoring and counselling sessions and a nature reserve to give more fresh air to our initiative for healthier minds. We also have a comprehensive Wellbeing Tutor Time Programme that supports the mental health and wellbeing of our pupils.
We are proud to provide the following strategies in school.
Comprehensive Mental Health and Wellbeing policy.
Mindfulness group.
Dedicated days/week to acknowledge and inform about different wellbeing topics.
PSHE Curriculum.
Carousel of self-help & wellbeing literature available in library.
Dedicated table for anxious students in canteen.
Mental Health Focus Group.
Introduction to Mental Health evening for parents.
Students have access to many different counselling services and health professionals.
Breakfast club.
Fortnightly check-in with looked after children.
Introduction to mental health training for TAs to support & mentor students with anxiety.
Wellbeing Champions
In addition to our existing pastoral team, a number of staff have been trained in Mental Health First Aid. Our Wellbeing Champions wear the green ribbon badge (the symbol of the Mental Health Foundation). Students can easily identify these staff when they need to talk about their wellbeing. To find out more about Mental Health First Aid visit: https://mhfaengland.org/.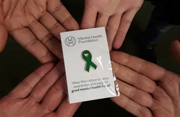 If you feel you require more immediate assistance, please click here to see a list of 24/7 crisis lines for mental health trusts in Thurrock, as well as other sources of support.