Careers
Amazing Apprenticeships - New Resources Available to Download!
At Gable Hall, the significance of Careers Education for all our students is paramount. We are dedicated to equipping each pupil with comprehensive Information and Guidance, and we uphold our commitment to delivering top-notch support to our student body. Spearheading our robust careers program is Mrs. Mountney. For any enquiries, please don't hesitate to reach out to me at careers@gablehall.com
What drives our vision and principles?
At Gable Hall, our vision for careers is centred on empowering our students to truly "Shape Their Own Future." We firmly believe in providing our students with a comprehensive careers curriculum, diverse encounters, practical experiences, and expert guidance that collectively empower them to make well-informed decisions about their future pathways.
Aligned with the Provider Access legislation, Gable Hall is committed to ensuring that every single student comprehends the full spectrum of learning opportunities available to them. This encompasses academic and vocational avenues, learning within schools, colleges, universities, and workplaces.
Guided by the CDI Framework (2021), our philosophy is anchored in the ambition of nurturing skills, knowledge, and capabilities that lead to entering "fulfilling careers." The notion of a "fulfilling career" is subjective, varying from individual to individual. However, it generally encompasses finding contentment in how one spends their time, making a meaningful contribution to their community, and enjoying a respectable quality of life.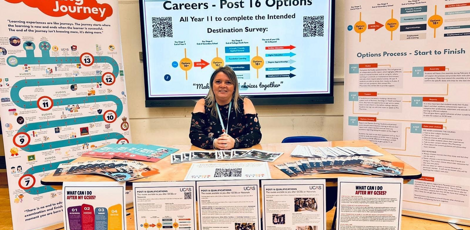 Navigating Interviews, University, Apprenticeships, and Beyond: Your Career Journey Explored
The landscape of interviews, career readiness, university choices, apprenticeships, and even self-employment often presents a labyrinth of challenges for students. It's not uncommon for them to grapple with uncertainties about the job market, their ideal path to higher education, or the road to self-employment. Frequently, students find themselves pondering the necessary educational steps for their chosen careers or even questioning which career aligns with their aspirations. These intricate matters, amongst others, lie at the core of the comprehensive careers guidance we offer at Gable Hall.
At Gable Hall, we emphasise the crucial connection between careers guidance and our expansive, well-rounded curriculum. These key points are meticulously outlined in our curriculum maps.
Beyond the structured careers curriculum, each student receives personalised guidance from dedicated career advisors throughout their academic journey. This tailored support extends across their school years, empowering them to forge informed decisions that align with their ambitious aspirations.
In you wish to book a careers meeting please email Mrs Mountney: Careers@gablehall.com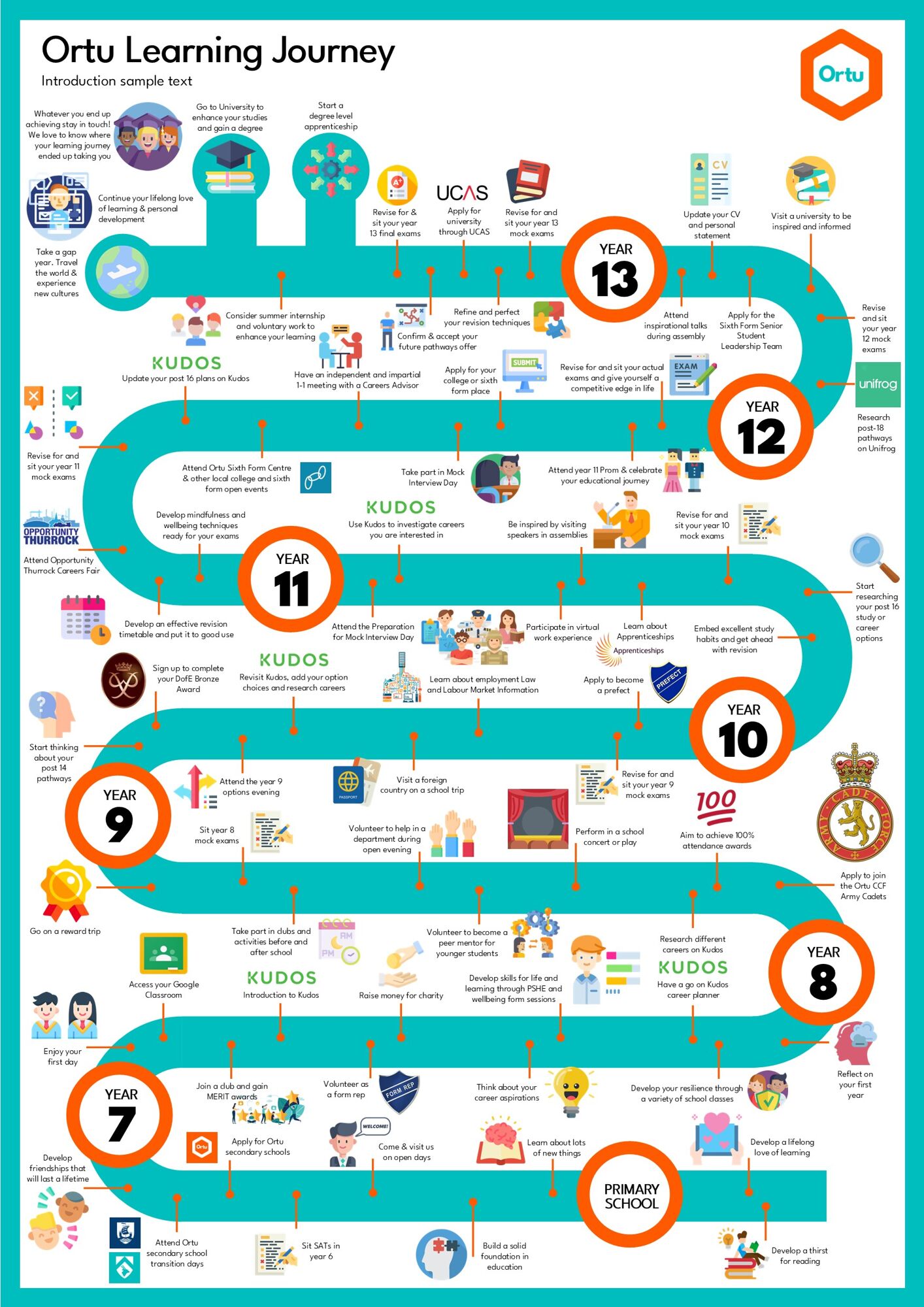 Statistics on Our Year 11 Leavers - Destination Data
| | | | | | | | | |
| --- | --- | --- | --- | --- | --- | --- | --- | --- |
| Year | 2022 | 2021 | 2020 | 2019 | 2018 | 2017 | 2016 | 2015 |
| Remaining in full time education | 224 | 219 | 246 | 208 | 205 | 216 | 219 | 219 |
| Training | 1 | 4 | 1 | 6 | 5 | 3 | 1 | 0 |
| Full time employment (inc apprenticeships) | 17 | 18 | 10 | 16 | 26 | 12 | 14 | 13 |
| Full time employment (no structured training) | 3 | 2 | 3 | 2 | 3 | 5 | 3 | 5 |
| NEET active in the labour market | 3 | 0 | 0 | 6 | 6 | 3 | 4 | 3 |
| NEET not available to the labour market | 0 | 0 | 0 | 0 | 0 | 0 | 0 | 0 |
| Total Cohort | 248 | 243 | 260 | 238 | 245 | 239 | 241 | 240 |
| NEET Total | 3 | 0 | 0 | 6 | 6 | 3 | 4 | 3 |
| NEET Total % Gable Hall | 1.2% | 0% | 0% | 2.5% | 2.4% | 1.3% | 1.7% | 1.3% |
| NEET Total % Thurrock | 2.7% | 1.9% | | | | | | |
NEET Figure (Not in Education, Employment, or Training)
Key Reading:
Options after Year 11
If you are in Year 10 or Year 11, you will be considering your next steps after GCSEs. You have a range of options:
A Levels and BTEC Level 3 subjects
Vocational subjects (more practical subjects)
T Levels
Apprenticeships
Traineeships
Part-time training (at least 20 hours per week) alongside employment or volunteering.
Whichever option you choose, you must be in some form of recognised education until the age of 18.
Click HERE for more information on each of these options from the National Careers Service
What are A-Levels? Advanced level qualifications (known as A levels) are subject-based qualifications that can lead to university, further study, training, or work. You can normally study three or four A levels over two years. They're usually assessed by a series of examinations.
If you are thinking about going to University, most higher education courses require specific A levels or combinations of A levels (or alternative level 3 qualifications).
If you're not sure what career or job you want to do, studying a selection of A levels can be a good way of keeping your options open.
The most important criteria for choosing A levels subjects are:
Looking at what you are likely to enjoy and be good at. If you enjoy a subject or have an ability in it already, you are more likely to do well.
Are there any particular subjects and/or grades you may need? If you have a particular career, job, or further study in mind, you may need to choose specific A levels in order to meet entry requirements.
How open you want to keep your future study and career choices?
What are BTEC Level 3 Qualifications?
BTEC stands for the Business and Technology Education Council. BTECs are specialist work- related qualifications.
They combine practical learning with subject and theory content.
BTECs are designed for young people interested in a particular sector or industry but who are not yet sure what job they'd like to do.
BTEC Nationals are available from Level 3 (similar standard to A levels). Many of these are well regarded by universities, further education colleges, and employers. A BTEC National qualification can lead to employment, continuing study, or professional development programmes. Depending on the type of BTEC you choose, they can be worth the equivalent of 1, 2 or 3 A Levels.
BTECs are divided into units, which cover specific areas of knowledge, skills, and understanding required by the particular sector or industry. The course involves a series of assignments which can be written or activity-based, for example creating a film clip, planning and putting on a performance, or creating a business plan. Students complete some assignments individually and some as part of a team. For some BTEC courses, students can also apply their knowledge and skills through work experience.
BTEC qualifications have equivalent UCAS points but if you are thinking of going to university or on to higher education, it is important to check whether the universities offering the courses you want to apply to accept BTEC Nationals.
What are Vocational Qualifications?
These are courses that teach you the practical skills and knowledge for a particular area of employment. They can prepare you for a broad employment sector, like engineering or travel and tourism, or for a specific job like a chef or a hairdresser. You study just one qualification as these include a lot of hands-on training and workplace experience.
Your chosen course includes practical work-related tasks. They're available in more than 1,000 subjects ranging from plumbing to hairdressing.
They're a great choice if you know what job you'd like to do.
A great way to learn the basics and hone your skills in your chosen work environment
There are five qualification levels, so you can start at a level that suits your skills and experience and work your way up.
There are no age limits and no special entry requirements, although you might need to complete a Level 2 NVQ before starting a Level 3 programme.
You'll complete training and the following assessment to prove you can do certain work- related tasks:
Portfolio assessment – where you build up evidence of what you've done at work.
Observation – where an assessor watches you work and checks that you can do the required tasks. The levels you'll be expected to reach are based on national standards for the particular job you want to do. Assessors sign off units when you've met these standards.
What are T-Levels?
T Levels are new courses which follow on from GCSEs and are equivalent to 3 A levels. These 2-year courses, which launched in September 2020, have been developed in collaboration with employers and businesses so that the content meets the needs of industry and prepares students for work, further training or study.
T Levels offer students a mixture of classroom learning and 'on-the-job' experience during an industry placement of at least 315 hours (approximately 45 days) - an 80% / 20% split
In time, students will be able to take a T Level in the following subject areas:
accounting (available September 2022)
agriculture, land management and production
animal care and management
building services engineering for construction (starting September 2021)
catering
craft and design
design and development for engineering and manufacturing (available September 2022)
design, surveying and planning for construction (now available)
digital business services (starting September 2021)
digital production, design and development (now available)
digital support and services (starting September 2021)
education and childcare (now available)
finance (available September 2022)
hair, beauty and aesthetics
health (starting September 2021)
healthcare science (starting September 2021)
legal
maintenance, installation and repair for engineering and manufacturing (available September 2022)
management and administration (available September 2022)
engineering, manufacturing, processing and control (available September 2022)
media, broadcast and production
onsite construction (starting September 2021)
science (starting September 2021)
For further information on T-Levels, go to https://www.tlevels.gov.uk/students
Post 16 Options - Choosing A-Levels & BTECS
A-Levels - A level courses will have undergone changes to make them 'linear'. This means all exams are taken at the end of the course. Key features of new A levels are:
Their difficulty will be the same as old A-levels;
They will be linear;
Exams will have a greater variety to questions types (e.g. multiple choice);
Coursework will be reduced.
It will be still be possible to complete an A level in one year as long as all assessments are completed at the end.
Grading will remain as A*-E.
A-Levels are usually offered in traditional academic subjects such as English, Theatre Studies, Photography, Biology or Maths.
Taking A-Levels is a good option if you want to go to University. You can sometimes take a mixture of A-Level and BTEC subjects at some colleges. Just make sure these are acceptable at the University you want to apply for.
T-Levels - T Levels are new courses which follow GCSEs and are equivalent to 3 A-levels. These 2 year courses, which launched September 2020, have been developed in collaboration with employers and businesses so that the content meets the needs of industry and prepares students for work, further training or study.
T Levels offer students a mixture of classroom learning and 'on-the-job' experience during an industry placement of at least 315 hours (approximately 45 days).
In time, students will be able to take a T Level in the following subject areas:
accounting
agriculture, land management and production
animal care and management
building services engineering for construction (starting September 2021)
catering
craft and design
design and development for engineering and manufacturing
design, surveying and planning for construction (now available)
digital business services (starting September 2021)
digital production, design and development (now available)
digital support and services (starting September 2021)
education and childcare (now available)
finance
hair, beauty and aesthetics
health (starting September 2021)
healthcare science (starting September 2021)
human resources
legal
maintenance, installation and repair for engineering and manufacturing
management and administration
engineering, manufacturing, processing and control
media, broadcast and production
onsite construction (starting September 2021)
science (starting September 2021)
Further Education Colleges - FE colleges generally offer vocational (work related) and specialist qualifications. They tend to provide courses for 16-18 year olds, as well as adult learners and often have close links with the community.
FE colleges offer a wide range of courses at a variety of levels. Each college is different, so you will need to check with a chosen college and what courses they offer. Some of the most usual courses include:
Catering and Hospitality;
Travel and Tourism;
Health and Social Care;
Childcare;
Business Studies;
ICT/Computing;
Hair and Beauty;
Sport and Public Services;
Performing Arts;
Media;
Art;
Animal Care;
Construction;
however there are many more on offer.
The qualifications linked to these vocational areas could be: NVQs, BTECs, HNCs, HNDs and Foundation Degrees. These qualifications (mostly NVQ and BTEC) are offered at different levels. To get onto a certain level, you need:
Level 1 requires 2's at GCSE;
Level 2 requires four x 3's at GCSE;
Level 3 requires five x 4's at GCSE (inc English and Maths at 4+).
University Technical Colleges (UTC's) - UTC's are academies for 14-19 year olds. They provide education that meets the needs of employers. They offer technical courses and work-related learning, combined with academic studies.
All UTC's:
Are sponsored by a local university and employers;
Specialise in two curriculum areas;
Teach core GCSE's alongside technical qualifications;
Focus on sectors that require highly specialised equipment;
Develop young people Business, ICT and Design skills to prepare young people for a range of careers and continuing education at age 19.
Post 16 Options - Apprenticeships at 16
Getting started with apprenticeships
If you are interested in an apprenticeship and would like to find out more information, click on the links below to learn more. Once you've explored a little, why not book a careers appointment with Mrs Mountney to discuss your ideas?
You can can also call The Apprenticeship Hotline if you wish to speak to an impartial advisor:
Apprenticeship helpline – 0800 015 0400 – 8am to 10pm, 7 days a week.
How to find an apprenticeship
You can find an apprenticeship by yourself using the National Apprenticeship Website;
You can ask employers directly;
You can look at local FE College vacancies.
If you would like support finding an apprenticeship, then you can apply to a training provider who will act like a recrutiment agency, working together with you to find an apprenticeship. You can apply for a training provider in much the same way as you would apply to college, using UCASPROGRESS. Alternatively, you can go directly through the training providers to register with them. Details about all the regional training providers can be found here
Useful resources for apprenticeships
Useful website for apprenticeships
Traineeships Post-16
Getting started with a Traineeship - Traineeships are an opportunity for you to gain work experience, job skills and improve your English and maths, if needed. The programme can last up to a maximum of six months with the content tailored to your individual career needs. A Traineeship will help you to boost your careers prospects with an apprenticeship or other employment in the future.
They will help with:
The opportunity to build your CV with valuable work experience;
Work preparation training;
Maths and English support;
At the end of your work experience you'll get an interview with the company if a role is available or an exit interview, together with meaningful written feedback, to help you secure an apprenticeship or other employment. Employers are not required to pay you for taking part in a traineeship but may support you with expenses such as transport and meals. Training costs will be met by government funding.
How to find a Traineeship? - Now that you've determined a traineeship could be the right route for you, there are two options available:
Traineeship opportunities are advertised regularly on Find a Traineeship on Gov.uk.
You can apply to you local college or training provider through UCAS Progress
Post 16 Options - Traineeship
Traineeships prepare young people for future careers by helping them become work-ready. They are for 16 - 23 year olds, and young people with learning difficulty assessments up to age 25.
How do they work?
Traineeships last from six weeks to six months, with content tailored to your individual career needs. They offer:
work preparation training — gives you the skills and confidence needed for an apprenticeship or the first step in your career

skills you need to find a job — employers are at the centre of traineeships, so they focus on your skills and future success in employment

maths and English support — developing the skills you need for the workplace and boosting your job prospects, your long-term career progression, and earning potential

work experience — you'll get an insight into work, a useful reference, and an exit interview (or even a job interview if a role becomes available)

an improved CV — traineeships give you great experience both practically and on paper
Is it right for me?
Traineeships are an ideal opportunity for young people who are motivated to get a job or an apprenticeship, but lack the skills and experience employers are looking for.
A traineeship could be suitable if:
you're aged 16 — 19 and qualified below Level 3 (equivalent to two A levels at grades A to C)
It's probably not right if:
you already have the skills and experience needed to find an apprenticeship or work
Find a traineeship
Find a traineeship:
by asking your local college or training provider if they have opportunities

by speaking to the careers team
Post 18 Options - Apprenticeships at Post-18?
In essence, an apprenticeship is a job. You'll spend 80% of the working week at your place of employment, and 20% at your place of study. You'll earn a salary, and your course fees will be covered by your employer and the government. You just need to be willing to manage your time between work and study.
Apprenticeships are work-based qualifications, which are designed to suit people who learn best by performing tasks.
Apprenticeships would suit someone who:
has a clear idea of the type of career they wish to pursue
is willing to commit to work and study, but would prefer a more practical and work- related approach to learning
is ready to start work with an employer, and be based in the workplace most of the time
is well organised and able to cope with the competing demands of work and academic study at the same time
is ready to be assessed through a mix of assignments and written work, including essays, reports, practical exercises, end tests, and exams
An apprenticeship is essentially a job. You'll spend 80% of the working week at your place of employment, clocking in hours and building up holiday pay – all in accordance with your contract of employment, just like any other employee.
For the rest of the time, you'll study the theory behind what you're doing at work. This could involve travelling to a university or college, or studying at work, usually one day a week.
You'll earn a salary, and your course fees will be covered by your employer and the government. You just have to be willing to put in the work and manage your time between work and study. Apprenticeships don't usually involve exams, but you should expect to be assessed while you're working. You'll need to demonstrate you can do your job effectively, by putting what you study into practice.
You can start an apprenticeship at the level appropriate to the job and work all the way up through the levels to higher and degree level apprenticeships for some job roles and career areas. You can also progress onto other further or higher education courses, including degrees.
Degree Apprenticeships
Click HERE to search for UCAS DEGREE APPRENTICESHIPS
This will allow you to search for a range of degree based apprenticeships by industry sector including
Accounting and Finance
Agriculture and Animal care
Architecture and Planning
Art, Performance and Design
Building and Construction
Business and Administration
Business Management
Engineering
ICT
Law and Legal studies
Marketing and Sales
Media and Publishing
Medicine, Dentistry and Nursing
Natural Sciences
Public Health & Social Care
Teaching
Transportation and Logistics
Travel, Leisure, Sport and Tourism
Videos:
How Do I Apply for an Apprenticeship?
Apprenticeships are jobs and are applied for in the same way. Each company is different, but must will have a few stages where you are showcase different skills and abilities at each stage and where the process gets more challenging. You may be asked to do group interviews, assessment centres, psychometric testing, role plays or online timed tasks - depending on the job type you are applying for.
There is no set deadline for when apprenticeships appear, as because you will be an employee, the company will advertise when they have a vacancy, so you need to be researching all the time to make sure you don't miss out.
HINT: it is a great idea to set up alerts on any websites you use to notify you when apprenticeships that match your interests go live.
Videos:
Higher/Level 4 - Level 4 apprenticeships allow you to train for highly-skilled jobs. You will get paid a wage by an employer and they will also pay for your university tuition. This level of apprenticeship covers a range of options. A level 4 qualification is equivalent to a foundation degree.
Qualification-wise you will need at least 5 GCSEs at grade 4 or above. There is a wide range of sectors you can train in for a level 4 apprenticeship including construction, accountancy, law, healthcare and many more.
Degree Apprenticeships - Introduced by the Government in 2015, these apprenticeships enable you to study for a degree whilst in employment. These apprenticeships are set up by an employer who works with a university who deliver the degree. The university will cover the theoretical background and the employer will cover the hands-on training. You will complete this apprenticeship alongside studying for a bachelor's (level 6) or master's degree (level 7).
Degree apprenticeships are available in England and Wales, whilst some Scottish universities offering what they call the "graduate level apprenticeship".
This pathway provides learners with an excellent opportunity to earn a salary whilst also studying for a degree-level qualification.
You will be required to have level 3 qualifications to apply for a Degree Apprenticeship such as A Levels, BTECs or another Level 3 qualification. Some employers will ask for a set number of UCAS points to undertake the degree programme.
Current degree apprenticeships include: civil engineering, healthcare, construction, law, accountancy, management, aerospace engineering to name a few
Useful links:
Resources for Apprenticeships
Click HERE to see who the Top 100 companies to work for in 2022 were!
Post 18 Options - UCAS
UCAS stands for Universities and Colleges Admissions Service. It's the centralised service that you will use to apply to university.
They also provide information, advice, and admissions services for UK conservatoires (UCAS Conservatoires), for Initial Teacher Training (UCAS Teacher Training), taught postgraduate courses (UCAS Postgraduate), and for young people looking to move to a new school or college after they've taken their GCSEs, Highers, or equivalent qualification (UCAS Progress).
What is a personal statement?
A personal statement supports your application to study at a university or college. It's a chance for you to articulate why you'd like to study a particular course or subject, and what skills and experience you possess that show your passion for your chosen field. The personal statement is an important part of your UCAS application. It's your chance to describe your ambitions, skills, and experience to university and college admissions staff.
Post 18 Options - Medicine
Applying to study medicine, veterinary medicine, or dentistry in the UK is a long and challenging process. For whichever course you choose, it is an exceptionally competitive process as well. However, there is a wealth of information to help you decide whether medicine is the right path for you, and how to make the very best application possible.
You can click on these links to see the most informative websites to visit if you are considering a career in medicine.
Infosheets for applicants to medicine
Click the link to access the Infosheets each focus on a different part of the applications process and beyond. They include key facts, dates, common pitfalls, and ways of testing what you have learned.
Interview Process - As part of the medical school application process, medical schools will assess the interpersonal skills that are key for medicine and also verify and expand on what you have put in your UCAS application.
There are 3 types of interviews you may face
Multiple Mini Interviews (MMIs) – MMIs are now used by a large number of medical schools. They require candidates to face a series of 'stations', each testing for different qualities. These might involve interacting with patients, tackling ethical scenarios or problem-solving.

Traditional Interviews – The traditional interview format involves being asked questions about your application and reasons for wanting to study medicine by either one person or a panel.

Group Interviews – Similar to a traditional interview, the difference is that you will be in a group setting and are likely to be given a topic to discuss with your group in front of the interviewers before moving on to a panel interview.
Oxbridge interviews for medicine differ from other universities.
As well as understanding what each type of interview involves, you need to make yourself aware of which medical school uses which type of interview.
Each Gable Hall student will have the opportunity to have a 'mock' interview with a member of the Senior Leadership Team or Subject Leader, as well as a mock MMI interview, which takes place in February.
My Choices at Post-18 After Sixth Form
If you are currently in Year 12 or 13, you will be thinking about life after Gable Hall and what it looks like for you. At this point, you will be considering:
University
Apprenticeship / Degree-based Apprenticeship
Full-time Employment
Internship
Take a Gap Year
Why Choose University?
During the course of studying for a degree you'll become an expert in a particular field; and develop your interests in your subject.
With most degree courses you often have the option of studying some different modules. This means you can choose to take your studies into more depth in area that particularly interests you, or you can study a broader range of topics.
You can choose to study a degree that suits your interests
You can tailor your modules
You'll get to learn through a range of methods
You'll attend lectures in larger groups and seminars for smaller groups
For STEM and other subjects, you'll get to work in labs
There are also opportunities to combine travel with your degree. This could be through working abroad as part of your degree, such as a 'placement year' degree – which generally means a year out in the third year, then a fourth year of study – or on specially-organised study abroad programmes.
During your time at university you will also develop transferable skills – skills we use every day in our professional work lives, social lives and home lives, as well as developing your independence.
Current statistics show that 86.4% of graduates are employed (not including those in further study) as opposed to a non-graduate, which is 71.3%.
Researching which University is right for me?
https://kudos.cascaid.co.uk/#/ Kudos: Our school platform - your one-stop-shop for all your future decisions
www.ucas.com/undergraduate UCAS: everything you could want to know about University.
www.thecompleteuniversityguide.co.uk Ranks every aspect of every UK university to help make informed decisions
www.theuniguide.co.uk An independent guide to all things University
www.informedchoices.ac.uk Using your subjects and interests to identify suitable degrees, with a focus on Russell Group Universities
Videos:
Applying for University
This is done through UCAS and your teachers and tutors will help you with this.
You can choose up to 5 universities to apply to, so doing your own research is essential to make the best choices that suit you.
You will also need to write a personal statement highlighting why you want to study this course and why you are a suitable candidate so having a range of skills and experience to talk about will be really important to make you stand out from the crowd.
TAKE THE UCAS CAREER QUIZ HERE
Link your subjects, skills and interests to a range of possible degrees or apprenticeships.
Post 18 Options - UCAT and BMAT
As part of your medicine or dentistry application, you are required to sit an admissions test . The UCAT (University Clinical Aptitude Test) and BMAT (BioMedical Admissions Test) are two aptitude tests used by medical schools in the UK and beyond. How exactly they're used varies from school to school, and this is sometimes outlined on their websites and prospectuses. Depending on the course you have chosen to apply to, you will be required to sit either the UCAT test or the BMAT test. You will be able to find out which exam you are required to sit on the UCAS website. Some students may be required to sit both, depending on the combination of courses you are applying to.
The University Clinical Aptitude Test is used in the selection process by the majority of UK University Medical and Dental Schools. The UCAT helps universities to select applicants with the most appropriate mental abilities, attitudes and professional behaviours required for new doctors and dentists to be successful in their clinical careers. It is used in collaboration with other admissions processes such as the UCAS application and academic qualifications.
BMAT
The BioMedical Admissions Test (BMAT) gives you the chance to stand out from the crowd and show your potential to succeed on medical and health-related courses. It tests your ability to apply scientific and mathematical knowledge, as well as problem solving, critical thinking and written communication skills that are essential to university-level study.
If you are planning on applying to read medicine at one of the following universities, you may be required to take the BMAT. Visit their websites to check.
The BMAT will take place in school in November
Where can I Continue My Studies Further?
CV Writing
Here are some top tips on how to write a CV, what you should include and what information is important for your interviewer to know about you. Take a look at the Youtube video for some tips.
What is a CV?
A CV, which stands for curriculum vitae, is a document used when applying for jobs. It allows you to summarise your education, skills and experience enabling you to successfully sell your abilities to potential employers.
How long should a CV be?
A standard CV in the UK should be no longer than two sides of A4. To save space only include the main points of your education and experience. Stick to relevant information and don't repeat what you've said in your cover letter.
What to include in a CV
Contact details - Include your full name, home address, mobile number and email address. Unless you're applying for an acting or modelling job you don't need to include your date of birth or a photograph. (NB: As you are writing this whilst in school, please DO NOT include personal details, but instead list schools address and phone number as your contact details)
Profile - A CV profile is a concise statement that highlights your key attributes and helps you stand out from the crowd. Usually placed at the beginning of the CV it picks out a few relevant achievements and skills, while expressing your career aims. Keep CV personal statements short and snappy - 100 words is the perfect length.
Work experience - List your experience in reverse date order. Do you have an after school or weekend job? This could include babysitting, paper-round, working in a café etc. Have you volunteered to support people within your community? This is also something you could mention in this section. Maybe you've been shopping for the vulnerable. You can include volunteering work in this section.
Education - List and date all previous education, including professional qualifications. Place the most recent first. (NB: There is no need for you to list your primary school, just any previous secondary school if applicable. This list would extend onwards from your secondary school to include college etc.) You can also list your predicted GCSE school grades here from your report but be sure to put them in a small table so they are clear.
Skills and achievements - This is where you talk about the foreign languages you speak and IT packages you can competently use. You can also list DofE in this section, together with any awards you may have received from sports clubs or external clubs such as Police Cadets, whether you are Head Boy/Girl or a senior prefect at school. Remember though - don't exaggerate your abilities, as you'll need to back up your claims at interview and those who don't tell the truth will be found out!
Interests - 'Socialising', 'going to the cinema' and 'reading' aren't going to catch a recruiter's attention. However, relevant interests can provide a more complete picture of who you are, as well as giving you something to talk about at interview. Examples include writing your own blog if you want to be a journalist, or being part of a drama group if you're looking to get into sales.
References – if you do have a weekend job then feel free to list your employer as your reference, otherwise please list your Head of Year reference and also your tutor should you wish to.
CV format
Avoid fonts such as Comic Sans. Choose something professional, clear and easy to read such Arial or Times New Roman. Use a font size between 10 and 12 to make sure that potential employers can read your CV. Ensure all fonts and font sizes are consistent throughout.
Section headings are a good way to break up your CV. Ensure they stand out by making them larger (font size 14 or 16) and bold.
List everything in reverse chronological order so the recruiter sees your work history and most recent achievements first.
Keep it concise by using clear spacing and bullet points. This type of CV layout allows potential employers to skim your CV and quickly pick out important information first.
If you're posting your CV, print it on white A4 paper. Only print on one side and don't fold your CV - you don't want it to arrive creased.
How to write a good CV
Use active verbs when possible. For example, include words like 'created', 'analysed' and 'devised' to present yourself as a person who shows initiative.
A good CV doesn't have any spelling or grammar mistakes. Use a spell checker and enlist a second pair of eyes to check over the document. I have highlighted this section as I spend hours checking CV's for SPAG! Please don't let yours be an example of poor SPAG!
Avoid generic, over-used phrases such as 'team player', 'hardworking' and 'multitasker'. Instead, provide real-life examples that demonstrate all of these skills.
Create the right type of CV for your circumstances. Decide whether the chronological, skills-based or academic CV is right for you.
Don't put the term 'curriculum vitae' at the top of the page, instead use CV.
Make sure your email address sounds professional (in this instance, please use your school email address.) If your personal address is inappropriate create a new account for professional use.
Don't lie or exaggerate on your CV or job application. Not only will you demonstrate your dishonesty to a potential employer, but there can be serious consequences too.
The 11 most common CV mistakes….
Not checking for typos
Always use spell-check and also read through your CV carefully.
Not getting someone else to check it too
Get a second pair of eyes (it can be a friend or family member) to look for spelling mistakes, spot grammar issues and check it makes sense to them.
Not making it 'idiot proof'
Your CV should make sense to someone outside your industry – or even your grandma. So explain who 'Joe Bloggs Ltd' are and what you did there.
Making it too wordy
Too many words in your CV and people won't read it. Use short, descriptive sentences and bullet points.
Worrying about the number of pages
If you have a long career or lots of experience, it's okay for your CV to go onto three pages – provided it covers everything you do in a succinct way. Your CV is your first step to an interview and needs to tell potential employers who you are.
Adding a photo
This is okay in some countries, but in the UK it's a no-no. Add your LinkedIn profile to your CV, if you really want them to see you.
Inappropriate social media profiles
If you do add LinkedIn or Twitter profiles, make sure they're professionally put together. Your social presence is your personal brand and shouldn't portray you as an exhibitionist party-animal. For any profiles that include incriminating photos, make sure your privacy settings are high!
An unoriginal personal profile
Everyone says, 'I am sociable and work well in a team or as an individual.' This is wishy-washy and over-used. Make your personal profile different and interesting. Talk about your skillset and what you want as your next job.
Unprofessional fonts or colours
Avoid flowery and ornate fonts or colours that don't look professional. Red as a font colour is too harsh and freestyle script, although pretty, is not professional or easy to read at a glance.
Incorrect personal details
Triple check everything and make sure you spell your email address correctly and don't miss any digits in your phone number.
A cover-all covering letter
If you're sending lots of applications, it's tempting to just copy and paste your covering letter or email. It's so important to take time to personalise each one for the role you're applying for. The company you're writing to want to feel special – that you're interested in them and genuinely want a job there.
Make sure your CV is interesting from the start. Employers receive hundreds of CV's sometimes just for one job. Make sure your CV stands out from the crowd! It is well known that most employers will give each CV they read approximately six seconds before they decide to bin it or place it in a pile of potentials……make sure yours doesn't go in the bin!
Any questions or concerns then please feel free to email me: careers@gablehall.com
Future Career Sectors and Industries
Gresham College Lectures
Gresham provides outstanding educational talks and videos for the public free of charge. There are over 3000 videos available on the Gresham website.
Gresham lectures are a great resource for both teachers and students because they provide stretch, challenge and support for the GCSE, A Level and International Baccalaureate (IB) curriculum.
As a student, attending Gresham lectures in person or watching online can deepen your knowledge and develop new ideas, concepts and perspectives that can be used and referenced in exams, coursework (including EPQs), and at university interviews,
In addition to subject groupings below, we have also created a number of exciting playlists ranging from The Tudors to Practical Applied Mathematics. These will be updated and added to regularly, providing a great free resource for exploring subjects related to the set curriculum.
If you would like a 2022/23 programme to be sent to you please fill in your details below. You can also download a digital version or sign up to their monthly newsletter to receive updates.
Kudos
I'm Thinking About My Options at GCSE (KS3)
If you are in Year 7, Year 8 or Year 9, then you will be considering your subject choices at GCSE and where they may lead onto for your future career pathways. Here are some links and resources to help you get started on your research towards making informed decisions.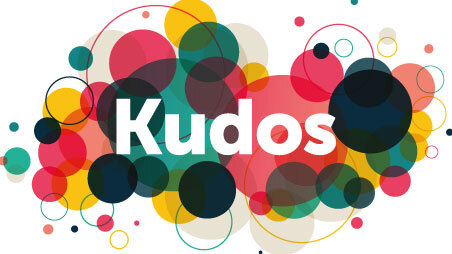 If your child requires their username or password to be reset please email careers @gablehall.com
Use Kudos as our main one-stop-shop for everything to do with your future choices. Kudos is the leading career development service helping you to explore, develop and maximise your potential.
Using Kudos, students learn about the numerous pathways available to them. They are able to explore routes that include further education, higher education, and apprenticeships. The breadth of information available in Kudos ultimately helps students navigate a complex academic and career landscape which include:
Kick-start your career - Students can kick-start their career exploration from four different starting points, depending on where they are in their education and on their personal preference. They have access to our career-matching quiz that will deliver career suggestions based on the student's interests. Or they can start by looking at subjects, work areas, or the career profiles themselves.
A trusted database - Kudos includes over 700 career profiles so exposing your students to the world of work has never been easier. All career and subject profiles are managed and updated by our in-house content team.
Linking curriculum to career - Linking Kudos helps students to explore the connection between what they're studying in school and their shortlisted careers. The product includes live job vacancies, live apprenticeship vacancies, and real-time labour market information. College and university courses are also pulled into the product in real-time.
Labour Market and Progression Routes in Essex

Not everyone knows what they want to do when they finish school and even if you do, do you know how to get started or what training you need to get the job you want?
This is our guide to everything you need to know about getting ready for a job or training you would like to do.
We will show you eight different industries that you could think about for your future jobs. These are all popular and growing in Essex and are important for bringing money and new skills to Essex. Each of these industries have different starting points no matter what your qualifications, skills or experience. There is something for everyone!
We have also included information about the different types of learning and training courses available to you after finishing school or college. These are things like on-the-job training for beginners, how to combine work and study, and options to continue your education at a university or elsewhere.
Newsletters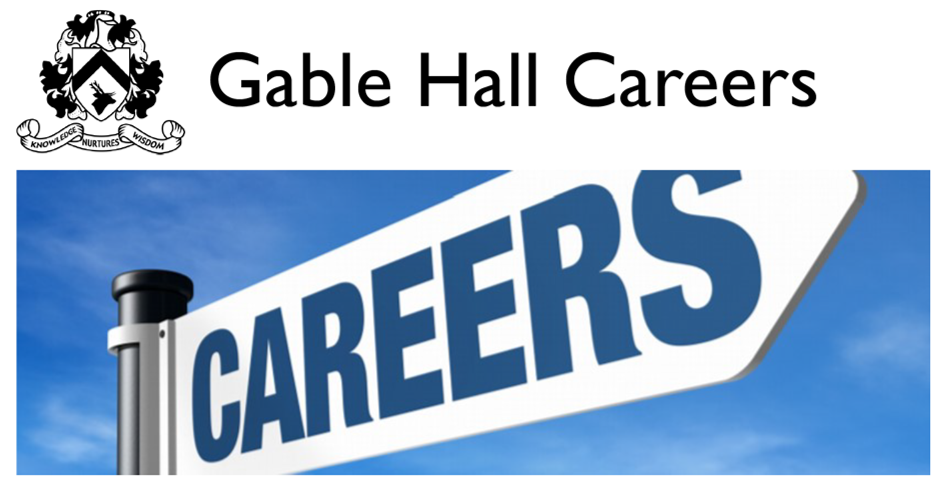 Click below to see our Career Special Edition Newsletters: