Uniform and Equipment
Cultivating Unity and Pride through our Uniform Code: An acceptance of a place at the Gable Hall implies an acceptance our uniform and dress code. By requiring students to wear the Gable Hall uniform, we hope to develop a sense of loyalty to the community of which they are members, and encourage them to take pride in their appearance.
Attire Expectations: Students in Year 7-11 are expected to wear the complete Gable Hall uniform when travelling to and from school. Throughout the school day, blazers are to be worn, unless teachers permit their removal during lessons.
Uniform Supplier Details: Our designated school uniform provider is Khalsa Schoolwear. You can reach them at Contact: 020 7729 3286.
Essential Lesson Equipment: We anticipate each student to arrive fully equipped for every lesson with the following essentials:
Knowledge Organiser (KS3)
2 black/blue pens
1 green pen
2 HB pencils, eraser, and sharpener
Colouring pencils
1 pencil case (preferably clear plastic for assessment purposes)
30cm Ruler
Mini Whiteboard and pen
Compass, Angle measurer/Protractor
Reading Book
Glue Stick
1 scientific calculator*
Recommended Scientific Calculators: While a variety of scientific calculators are available, we suggest the use of the following models:
Casio fx-83 GT Plus
Casio fx-83 GTX
Casio fx-83 CW
Responsibility for Loaned Items: Certain textbooks and specialised equipment might be provided on loan. A dedicated exercise book or folder will be issued for each subject. Should any item be lost or intentionally damaged, students will be accountable for the replacement cost. This accountability encourages responsible usage of school property.
Thank you for your cooperation in upholding these standards, as together we nurture a culture of respect, unity, and excellence at Gable Hall School.
School Uniform
Enhanced Uniform Guidelines for Students:
Blazer: All students are expected to wear the official Gable Hall School blazer. Blazers should be worn at all times while navigating the school premises. During hot weather, the principal reserves the right to permit the temporary removal of blazers indoors.
Tie: It is expected for every student to wear the school plaid ties.
Shirt: Students must wear a plain white shirt or blouse that is appropriate for pairing with a tie and can be neatly tucked in. Polo shirts, T-shirts with patterns, or designs are considered unsuitable. Sleeve length can be either long or short, particularly during the Summer Term.
Trousers: The uniform policy stipulates plain black tailored trousers that are not clingy, 'skinny,' or designed like jeans. These trousers must be full-length and feature traditional pockets, with no side leg pockets or zips. Hems must be present and not frayed, and the bottom of the trousers should rest on the shoe rather than cling to the leg. Denim, corduroy, lycra material, or hipster-style trousers are not allowed.
Kilt: A tastefully crafted stitched-down knife pleat kilt with a button-fastened waistband, wrap front, and internal waist adjuster is provided, ensuring a smart and well-fitting appearance. This kilt offers both durability and exceptional comfort.
Footwear: Only smart black leather (or leather-look) shoes are permissible. This excludes trainers, Converse, Air Force 1, and any canvas shoes. Open-toe designs, trainers, pumps, canvas shoes, hybrid trainers, stilettos, mules, sling backs, sliders/flip-flops, and heels exceeding 4cm in height are strictly prohibited. Footwear should not display coloured laces or stitching. Trainers are only allowed under special circumstances and must be accompanied by a doctor's note; they should be plain black. Notably, boots are not permitted.
Additional Information: We have received enquiries from parents/carers regarding the acceptability of leather Kickers. Plain black leather Kickers are permitted as part of the uniform, provided they are shoes and not boots or the trainer variety (refer to attached photos).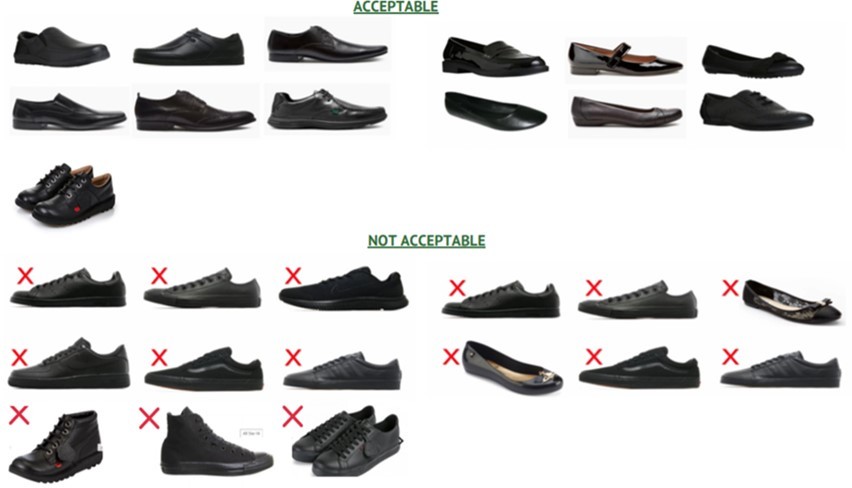 Socks - Plain white or black socks
Tights: Experience the premium comfort of our cotton-rich tights. Crafted with the utmost quality, each pair features a meticulously hand-linked, flat seam toe design that ensures both sophistication and durability.
Coats, Scarves, and Gloves: Coats, scarves, and gloves should only be worn when travelling to and from the school premises. These items must be promptly removed upon entering the buildings. Hijabs worn for religious reasons must be plain black and should not cover the face or uniform. While outdoor coats in sensible styles and plain colours are acceptable, leisure wear, logos, and patterned jackets are not suitable for school attire. Sweatshirts, hoodies, denim jackets, and similar items do not meet the criteria for coats. Additionally, leather, denim, tracksuit tops, hooded sweatshirts, and patterned jackets are strictly prohibited. Scarves should adhere to a conventional style and be in black colour, without a hood. Baseball caps are not permitted.
Jewellery: For the safety and well-being of all students, the school follows a jewellery policy similar to other institutions. Pupils are allowed to wear only a single pair of small studs and a wristwatch. This policy extends to necklaces that might typically be worn beneath shirts or blouses, as well as rings, earrings, nose rings, and bracelets. Bangles and cuffs are not allowed. Medical alert bracelets/necklaces are permissible if deemed necessary. Badges related to the school are allowed.
Hairstyles: We encourage hairstyles that align with a respectful and focused learning environment. Unconventional hair colours or styles (such as unnatural red or dip-dyed hair) are discouraged. Decisions regarding what constitutes an 'extreme hairstyle' are made at the principal's discretion. Designer shirts, trainers, and ornate footwear are not appropriate for school. Hair accessories should be simple and adhere to the school colours of black, white, or purple, with a maximum width of 50mm. Makeup, nail polish, artificial nails, false eyelashes, fake tan, decorative contact lenses, and dental wear are strictly prohibited. Balloons, including birthday balloons, are not allowed.
Make-up: If makeup is worn, it should be subtle and natural-looking. Coloured nail varnish, false or acrylic nails, and artificial eyelashes are not allowed. Eyebrow slits are also prohibited. If eyebrows are enhanced using makeup or dye, they should maintain a discreet and natural appearance.
Bags: We recommend traditional-style bags that are spacious enough to accommodate A4 books and folders. Handbags and small cross-body bags are not suitable for school purposes.
Valuables and Money: To ensure the safety of personal belongings, we advise against bringing substantial amounts of money and expensive items to school. Gable Hall School cannot be held liable for any incidents involving theft, accidental loss, or damage to personal effects, money, belongings, or clothing.
We appreciate your cooperation in adhering to these uniform guidelines, which help maintain a consistent and respectful appearance across the school community.
Physical Education Kit
Physical Education Kit
Physical Education holds a pivotal role in shaping your child's educational journey during their initial five years at Gable Hall School. To ensure a comprehensive experience, each student will partake in four to five PE lessons per fortnight. Our commitment to upholding standards of appearance, presentation, and safety is reflected in the expected PE kit outlined below.
For uniformity and consistency, it's important to note that all P.E. and Dance attire should bear the Gable Hall logo. We kindly request that items from other brands, such as Adidas and Nike, which carry their own logos, be avoided. If you are unable to purchase attire with the Gable Hall badge then plain white / black attire will be accepted.
Expected Attire for Students:
Official Gable Hall School P.E. polo shirt.
Official Gable Hall School P.E. leggings / Training Pants.
Official Gable Hall P.E. 1/4 zip training top.
Plain Black Socks.
Official Gable Hall School P.E. Shorts.
By adhering to this uniform policy, we collectively ensure a cohesive and safe environment for all students engaging in physical activities. Your cooperation in this matter is greatly appreciated as we strive to provide a well-rounded educational experience for your child at Gable Hall School.
A FREE online platform where you can give away or sell your unwanted school uniforms items
Old School Uniform is an online platform where you can give away or sell second hand school uniforms.
It's free to use and has been designed to connect local school communities in a practical way.
So, if you have school uniforms that your kids have out-grown, no longer use or have never worn, or if you are looking for a second hand school uniform for your child, this is the place to start.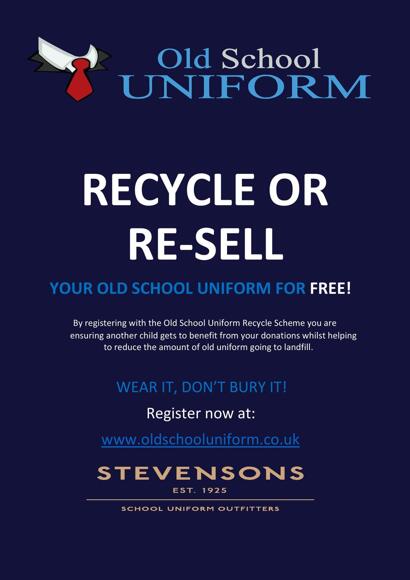 Lost Property Guidelines
To ensure the safekeeping of your child's belongings, we kindly request your cooperation with our lost property procedures:
Name Your Child's Possessions: We strongly recommend that all your child's personal items, including clothing, are clearly labelled with their name. This simple step greatly assists us in returning lost articles to their rightful owners.

Lost Property Collection: If your child loses any item while on our premises, we encourage them to enquire at the Main Office located by the reception area. This is where all found articles should be turned in.

Holding Period: Lost items are retained at the Main Office until the end of the term. After this period, unclaimed items are placed on display for students to reclaim.

Charitable Donations: Any items that remain unclaimed after being displayed are thoughtfully donated to charity. We believe in contributing to our wider community.

Personal Item Responsibility: Gable Hall School does not assume responsibility for the safety and security of your child's possessions. In light of this, we kindly urge parents and guardians to consider whether it is necessary for their child to bring valuable items onto our school premises.
By working together and following these lost property guidelines, we aim to maintain a supportive and organised environment for our students while promoting personal responsibility. Thank you for your understanding and cooperation.