Safeguarding & eSafety
Gable Hall School is committed to providing a safe and secure environment for children, staff and visitors and promoting a climate where children and adults will feel confident about sharing any concerns they may have about their own safety or the well-being of others.
We are committed to the vital contribution of all governors, staff and support staff make to safeguarding children a priority. We aim to ensure that child protection concerns and referrals are handled sensitively, professionally and in ways that support the specific needs of the individual child.
Through providing a caring, safe and stimulating environment which promotes the social, physical and moral development of all our students, we aim to foster an atmosphere of trust.
Students can contact the Safeguarding Team by email or speak to a member of staff displayed on the poster below. The poster is displayed in every classroom, office and in corridors. This is to ensure that every member of the Gable Hall community can report and discuss matters with trained staff.
Click Here to read our Special Edition Newsletter.
To contact the safeguarding team please email:
WhoCanHelp@gablehall.com – an email address set up for our students. The email will go straight to the safeguarding team who can direct to appropriate sources of support or information linked to wellbeing.
Pastoral@gablehall.com – an email address set up for Parents/Carers. The email will go straight to the Pastoral team who will refer your email to the appropriate member of staff and ensure someone contacts you directly to deal with your concern.
Mrs N.Jeffery – Designated Safeguarding Lead – nicola.jeffery@gablehall.com
Mr Gary Walker – Deputy Designated Safeguarding Lead – gary.walker@gablehall.com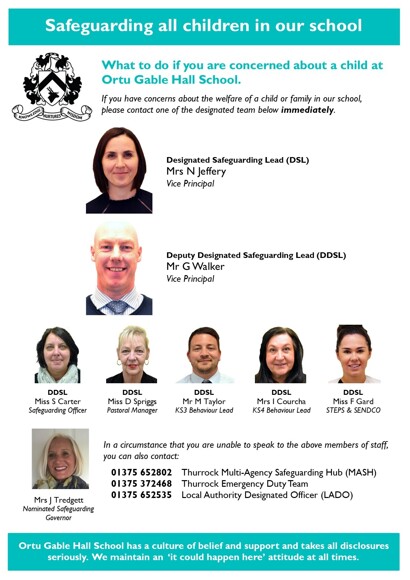 In a circumstance that you are unable to speak to the above members of staff, you can also contact:
Thurrock Multi-Agency safeguarding hub (MASH) - 01375 652 802. Out of hours Emergency Duty Team number which is 01375 372 468.
Thurrock Emergency Duty Team: 01375 372468
Local Authority Designated Officer: (LADO) - 01375 652535/652921
Gable Hall School has a culture of belief and support and takes all disclosures seriously. We maintain an 'it could happen here' attitude at all times.
Child Confidentiality - Members of staff have a professional responsibility to share relevant information about the protection of students with other professional agencies. This can include Social care, Early Help services, Police and other agencies that may support your child. A member of staff must, therefore, never promise confidentiality.
Prevent Strategy - At Gable Hall School we recognise that safeguarding against radicalisation is no different from safeguarding against any other vulnerability. PREVENT is the name given to a national strategy which aims to stop people from becoming involved with violent extremists or supporting terrorism. The Prevent duty is carried out under the Counter-Terrorism and Security Act 2015, which legally requires us to take steps to prevent students being drawn into terrorism. We take this duty seriously and carry out the four main actions, being risk assessment, working in partnership, staff training and IT Policies. If we assess a students as a risk, we will refer them to the Channel Partnership, which focuses on providing support at an early stage.
In terms of Internet safety, we ensure suitable filters (including key word and phrase monitoring) are in place to keep students away from extremist materials.
We recognise that we play a vital role in keeping people safe from harm, including from the risks of extremism and radicalisation, and in promoting the welfare of students in our care.
If you have concerns about pupils travelling to a conflict zone seek Home Office guidance and refer to MASH team if still concerned.
Report any concerns to the MASH (number above) or call the Anti Terror Hotline on 0800789321 for an immediate response.
Helpful numbers and websites
Childline: 0800 1111
NSPCC helpline: 0808 800 5000
Kooth: www.kooth.com - support service for students wellbeing
Multi Agency Safeguarding Hub: 01373 652 802 / Out of hours Emergency Duty Team number which is 01375 372 468.
Below are links for further guidance and information:
https://www.gov.uk/government/publications/prevent-duty-guidance/revised-prevent-duty-guidance-for-england-and-wales
https://educateagainsthate.com/
Anti-bullying
Family Support
Mental Health and Wellbeing
Online E-Safety Advice
Child Exploitation and Online Protection