Character Traits
At Gable Hall School, we celebrate our 3 Character Traits.
We provide an outstanding personal development curriculum to support the respect, integrity and excellence of our students so they can make a difference to their own lives and the lives of everyone else around them.
Our Values of Respect, Integrity and Excellence permeate through the curriculum. We have high expectations of all pupils, reflected in the Gable Way: being Ready to learn, being Respectful to each other and Safe in and out of School.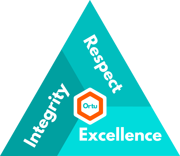 RESPECT - There are four key ideas that apply to respect.
The Golden Rule: Treat others the way you want to be treated. Be polite and courteous. Respect the rights and freedoms of others. Respect the property of others - take care of things that you borrow and don't take things without asking permission first.
Non-violence: Solve disagreements peacefully, without violence. Deal with anger peacefully. Don't use physical force to show anger or to get what you want.
Tolerance and acceptance: Respect others who are different from you. Listen to the point of view of others and try to understand their perspective. Don't judge people by their outside appearances.
Courtesy: Use good manners. Be polite and courteous to everyone. Do not hurt others by embarrassing them, putting them down, or insulting them. Do not use bad language or inappropriate language.
INTEGRITY - is defined as being strong enough to do what you know is right. INTEGRITY is also knowing the difference between right and wrong and choosing to do the right thing, even when it is difficult. It is important because it is related to so many other powerful life skills such as patience, honesty, responsibility, dependability, and accountability. It's the power to do what's right, even when no one is watching.
​How can you be a person of INTEGRITY?
By being honest and trustworthy.
By not sharing or copying work from other students. That would be cheating!
By keeping your friend's secrets.
By not spreading rumour about others.
By doing the right thing around your peers, even when adults aren't around.
REMEMBER!!! A student who has integrity is one who does what's right and doesn't bend the rules just because others say its okay.
EXCELLENCE - Building a Mindset of Excellence
Excellence is defined as greatness, value, worth, and good qualities in high degree. Excellence is ongoing—it's an essence, a mindset, a foundation. It becomes you. Excellence is a place to come from. It's a process, a journey.
We celebrate examples of student character through our reward system. Students collect merits by demonstrating the character traits in lessons and around the school These merits are collated by thr rewards coordinator, and the winning home group each half term is rewarded with a celebration breakfast.