Celebrating Diversity
At Gable Hall we believe that celebrating our differences, as well as our common interests, helps unite and educate us. Throughout the year we celebrate and raise awareness of a variety of Key Themes / Events that are taking place within our community and wider world.
World Heritage Day - We are excited to share with you the Gable Hall Cultural Heritage Day! On this day, our school community come together to celebrate the diverse cultures that make up our community. We encourage our students and staff to dress up in colourful and traditional attire representing their cultural heritage.
We are incredibly proud of our school community for coming together to celebrate our diverse cultures. It will be a wonderful event that highlights the importance of cultural diversity and the value of different traditions. We hope that this celebration has inspired our students to explore and appreciate different cultures and to continue to celebrate and honour their own cultural heritage.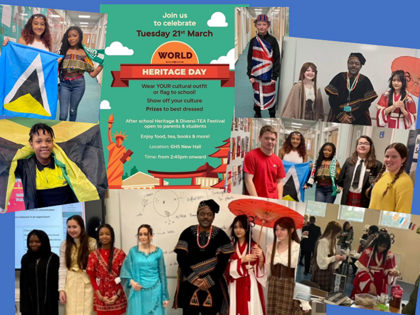 Key themes / topics celebrated this year include: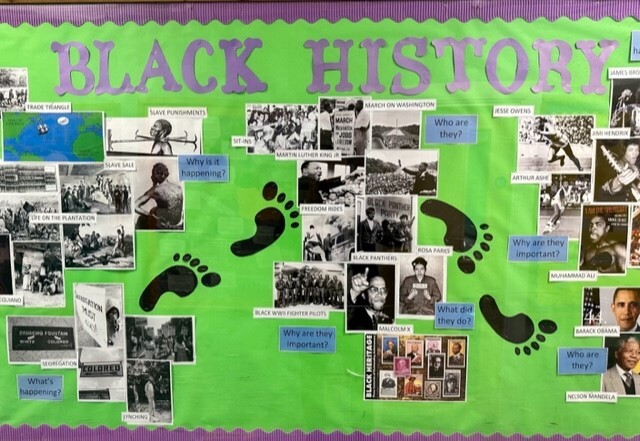 Assembly - Students delivered parts of their year group assemblies to other year groups
Culture Day - Staff of black ethnic origin, were invited to wear something to school, which showcased their cultural heritage and traditions. Students were also invited to participate.
Music and/or dance workshops – These were held throughout the two weeks. All students encountered one workshop. KS3 students experienced an African dance workshop and KS4 & 5 students experienced an African drumming workshop.
Culture club – We ran a 'Culture Club' which celebrated diversity. Included were a range of activities and talks based around different cultures.
Form Time Activity – During form time students had time to share stories about who their inspirational figures are, these were collected, and displayed in the school.
Art exhibition - celebrating our own students' work
Music - Played at school entrance during the mornings in October whilst students arrived including Open Evening and parents evenings.
Inspirational Wall of Quotes: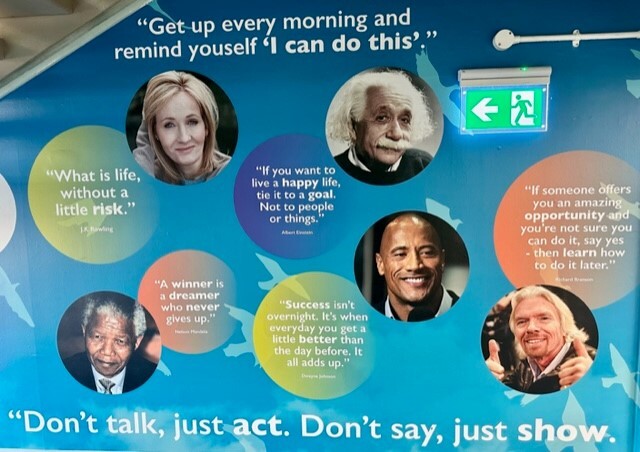 Key Stage 3
CARTS - Curriculum resources cover a wide range of diverse cultures and lifestyles.
SOW look at immigration and its impact in local community.
English – chosen texts, stimuli and resources are more diversified.
Key Stage 4
CARTS – Theatre practitioners, choreographers, composers and artists that are studied are from a more diverse background in order to appeal to our students.
Geography - Topical studies are specifically selected to enable students to understand, appreciate and respect differences in the world and its people, celebrating diversity of culture and promoting equality.
Key stage 5
HSC - Inviting OAPs into the school for entertainment and refreshments.
CARTS - Pride festival in June 2022
All Year Groups
Food – Multicultural food projects throughout the year. Inviting guest cooks and parents to teach new techniques and cultural food.
Assemblies and form activities celebrating diversity.
School focus Months: EG, Black History and Pride.
Whole school Remembrance Day
CARTS - Performing at OAP homes and hospices.
Trips to look at new cultural styles, performers and creators.
Fundraising for Thurrock Foodbank.
Equality Club.
Diversity Gold Award.
Cultural Performance and food night Foreign Film Club
We believe that:
Knowledge is the key to tolerance.
To gain a new perspective on the lives of others around you as well as around the world.
To understand other's perspectives, to broaden our own, and to fully experience and educate ourselves.
People all around need to understand and learn to appreciate other cultures, and this is one way to accomplish that.
Through each other's diversity, we become more aware of our own. Not only do we become more aware, we gain a sense of pride for the diversity of our own culture.
Understanding people and their backgrounds is crucial to personal and community growth.
In order to realize what varied cultures, beliefs, and lifestyles people lead outside the somewhat heterogeneous bubble of Boone. In order to relate and understand those with different social, economic, and educational backgrounds.
To help us all spend some time together — we understand and appreciate each other's cultures so much more!