Open Evening 2021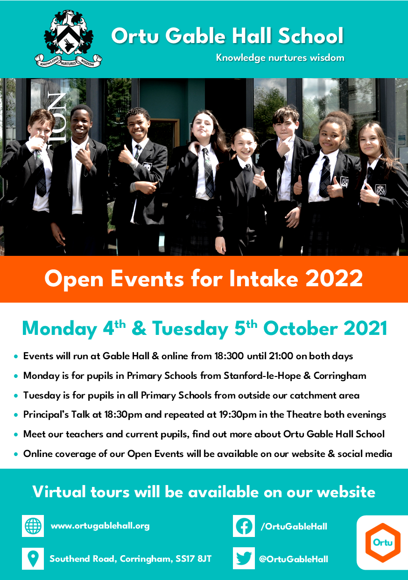 OPEN EVENING - Monday 4th and Tuesday 5th October 6.00 - 9.00pm
We are currently planning to hold our Open Evening on site on Monday 4th and Tuesday 5th October. In order to provide a safe experience for all, could you please bear in mind the following information:
In order to reduce the numbers on site, we will only be able to accommodate one child and one adult from each family; please do not bring siblings;
It would be helpful if all those attending on the night could do a lateral flow test prior to coming. Please do not attend if you have any of the Covid symptoms;
Please feel free to wear a face covering;
Please observe social distancing as much as possible;
At the moment, we are not intending to operate a booking system. However, in order to minimise the number of people on site at any one time we ask parents/carers to attend at the following times according to the primary school their child currently attends:
Session 1 - Monday 4th October: 6.30pm - 7.15pm
Corringham Primary School
6.30pm Principal's presentation followed by your tour.
Session 2 - Monday 4th October: 7.15pm – 8.00pm
Giffards Primary School
7.15pm Principal's presentation followed by your tour.
Session 3 - Monday 4th October: 8.00pm – 8.45pm
Arthur Bugler, Graham James Primary Academy and Abbots Hall Primary Academy
8.00pm Principal's presentation followed by your tour.
All other primary schools may attend any of the sessions above or preferably on Tuesday 5th October.
We kindly request that parents/carers leave site at the end of the allocated session. Additionally, the Principal's address will shortly be made available online along with a virtual tour. We will also make available some time slots during the day where parents can visit the school and meet with me. These visits may be booked by contacting the School Office on 01375 400800.
It may be necessary to make changes to these arrangements if Covid infection rates are high nearer the time, therefore please keep an eye on our website where we will publish any future updates.
In the meantime, I look forward to meeting you on Monday 4th October and Tuesday 5th October.