Examinations
Internal & External Examinations
| Event | Start | End |
| --- | --- | --- |
| GCSE Resit Season | Monday 2 November 2020 | Thursday 19 November 2020 |
| GCSE Yr 11 Mock Assessments | Monday 2 November 2020 | Friday 13 November 2020 |
Yr 11 Assessment Timetable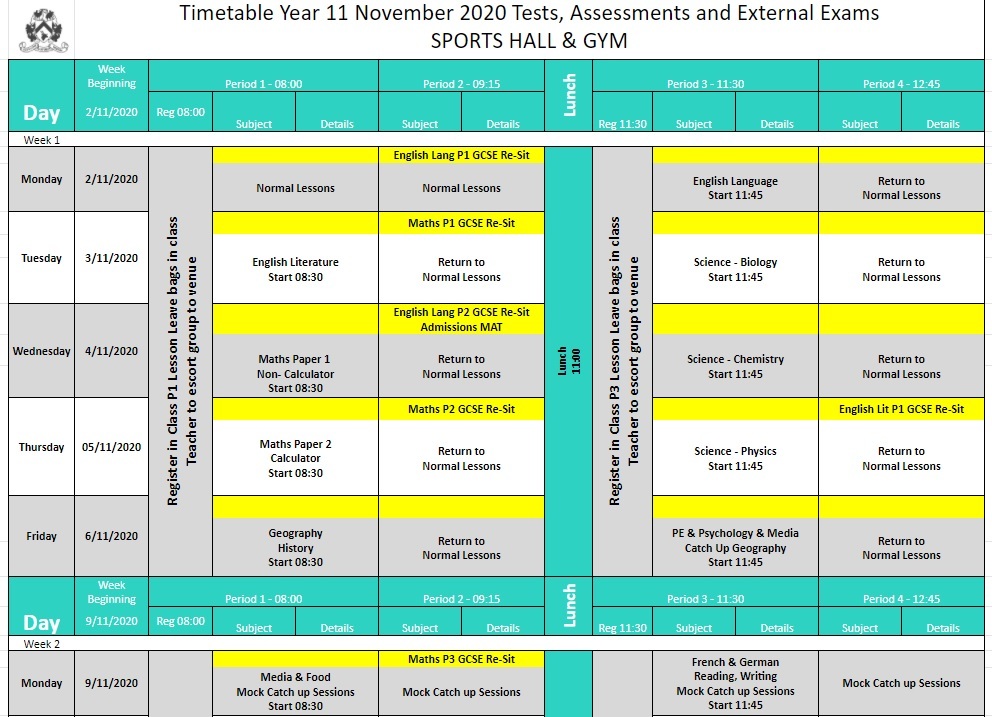 NB* Subjects not timetabled above may hold assessments during lesson time, these will be run by the subject department and held in class unless otherwise stated by the subject teachers.
Certificate Collection
GCSE and Vocational Certificates will be available for collection by appointment only from 1st December 2020. Please email examinations@gablehall.com with a preferred date and AM or PM, details of collection will be confirmed on reply. Collections cannot be made before 8:30am or after 4.00pm.
2020 Results Appeals and Autumn Exam Arrangements
Ofqual Statement issued on 30th June 2020
Students will be awarded calculated grades in GCSEs, AS and A levels this summer, giving them the opportunity to move on to further study or employment, despite the cancellation of exams. Students will be able to appeal – through their school or college – if they believe the process this summer was not followed correctly in their case; and centres themselves can appeal if they believe something systemic has gone wrong in relation to their results. Any student unable to receive a calculated result, and others who would like to improve their grades, will have an opportunity to take the full suite of GCE, AS and A level exams in the autumn.
For further information visit : Ofqual
Information for Candidates
JCQ Guidance