Student Welfare
Ortu Gable Hall School is committed to providing a safe and secure environment for children, staff and visitors and promoting a climate where children and adults will feel confident about sharing any concerns they may have about their own safety or the well-being of others.
We are committed to the vital contribution of all governors, staff and support staff make to safeguarding children a priority. We aim to ensure that child protection concerns and referrals are handled sensitively, professionally and in ways that support the specific needs of the individual child.
Through providing a caring, safe and stimulating environment which promotes the social, physical and moral development of all our students, we aim to foster an atmosphere of trust.
Students can contact the Safeguarding Team by email or speak to a member of staff displayed on the poster below. The poster is displayed in every classroom, office and in corridors. This is to ensure that every member of the Ortu Gable Hall community can report and discuss matters with trained staff.
WhoCanHelp@gablehall.com – an email address set up for our students. The email will go straight to the safeguarding team who can direct to appropriate sources of support or information linked to wellbeing.
Pastoral@gablehall.com – an email address set up for Parents/Carers. The email will go straight to the Pastoral team who will refer your email to the appropriate member of staff and ensure someone contacts you directly to deal with your concern.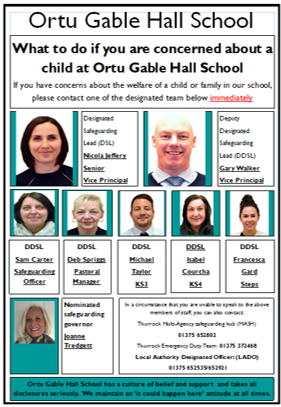 In a circumstance that you are unable to speak to the above members of staff, you can also contact:
Thurrock Multi-Agency safeguarding hub (MASH) - 01375 652802
Thurrock Emergency Duty Team: 01375 372468
Local Authority Designated Officer: (LADO) - 01375 652535/652921
Ortu Gable Hall School has a culture of belief and support and takes all disclosures seriously. We maintain an 'it could happen here' attitude at all times.