Career Information, Advice & Guidance
Here at Ortu Gable Hall we take the Careers Education of all our pupils extremely seriously. We supply each pupil with Information and Guidance and pride ourselves on the quality of our provision offered to our students.
Please find below a copy of the Ortu Careers Learning Journey
What Can Pupils Expect During Their Time At Gable Hall To Help Prepare Them
Gatsby Benchmarks
The teaching and promotion of careers, in line with the Gatsby Benchmarks, is embedded within Ortu Gable Hall School. We create a culture that is ambitious for its students to understand different pathways into the wider world of work, encouraging students to actively contemplate different careers and the chances they must take now to help them achieve their employment goals, for example which academic qualification or work experience will best assist them. This embedded culture is achieved through a variety of ways:
The tutorial programme, with one set day a week assigned to careers
Weekly careers employability skill focus: listening; teamwork; leadership; aiming high; problem solving; creativity; staying positive; and presenting
Thematic days
Weekly 'career in focus'
External speakers and trips
Annual careers fair
Educational Visits
Careers mentoring and guidance.
What Are the Statutory Careers Requirements?
As part of the statutory careers requirements, every school should aim to meet the 8 Gatsby Benchmarks. These Benchmarks are the framework to our careers programme at Ortu Gable Hall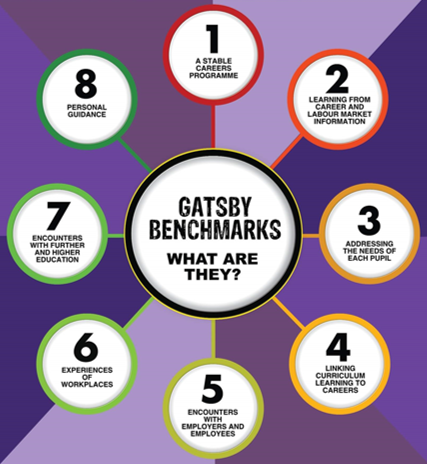 Year 7 - During the course of Year 7, pupils will be introduced to our schools Careers Leader – Mrs Jackson.
They will spend time being introduced to the careers software 'Kudos'. They will be supported to set up their own log in account, this software will be visited regularly during their time at Gable Hall. Here they can research, college and university courses, careers choices and start developing their CV's. Its important for our pupils to understand it's not about choosing their job for life at this age but knowing how to access all the tools available to them to help them with the career journey.
Year 8 - During Year 8 pupils will once again revisit the kudos system they were introduced to during Year 7. Here they can research, college and university courses, careers choices and start developing their CV's. It's important for our pupils to understand it's not about choosing their job for life at this age but knowing how to access all the tools available to them to help them with the career journey.
Year 9 - During the Spring term of Year 9 pupils will be selecting Option. Prior to this, pupils will be able to revisit the Kudos Careers system and will also have the opportunity to listen to guest speakers during assemblies about various career paths that may be available to them. It is important for all pupils to understand the Post 16 Options that are available to them, as this may affect the subjects they continue studying in Year 10 and 11.
Year 10 - During Year 10 pupils will have the opportunity to speak to industry professionals in various sectors, to find out about their personal education and career journeys. We also work closely with our local colleges and universities and welcome them in to speak to the pupils about the courses they offer. This is a great opportunity for pupils to understand what life after Gable Hall is like and to start preparing them for the next steps.
Our Year 10's are welcomed to take part in the 'Thurrock's Next Top Boss' competition. During the end of Year 10 pupils take part in a 'Mock Interview Preparation Day' This is run by staff members and industry professionals. The pupils will take part in workshops around CV writing, interview skills, importance of making a first impressions and post 16 options. This will help them prepare for their Mock Interview day during the first term of Year 11.
Year 11 - Year 11 starts with a visit to Opportunity Thurrock - our borough wide careers fair, where pupils can access a wide range of further and higher education providers, training providers, and local employers all under one roof.
The highlight of year 11 for our pupils is Mock Interview Day! Having completed their Progress File and prepared for the day at the end of Year 10, pupils are then interviewed by a company professional from a wide range of industries. This is a brilliant opportunity for all pupils to experience what an interview entails and how to prepare yourself thoroughly.
Year 11 is busy with College/Sixth Form open days, taster days, interviews and getting Progress Files completed and up to date before they leave us. Pupils are offered a 1 to 1 careers interview with Dena Adams from Thurrock Careers. Dena is able to offer impartial advise to every pupil on Colleges/ Sixth Forms and Apprenticeships. During Year 11 our Careers Lead will be working extremely closely with all our pupils to ensure they are confident and comfortable with the decision they make about their next steps in education.
Our Promise To Our Ortu Gable Hall Students
Learn more about technical education qualifications and apprenticeship opportunities, as part of a career programme which informs students of the full range of education and training options available to them at each transition point.
Hear from a range of local providers about the opportunities of offer, for example, technical education and apprenticeships – this can be achieved through options evenings, assemblies, group discussions, and taster events.
Understand how to apply to the full range of academic and technical coursed available to them.
Aiding Our Pupils To Follow Their Dreams
Kudos is the leading career development service helping pupils explore, develop and maximise their potential. Here they are able to research career paths, develop their CV's, search for available jobs and apprenticeships and build their own career portal. By giving our pupils this tool they are able to realise that their dreams are achievable.
If your child requires their username or password to be reset please email careers @gablehall.com
Thurrock Opportunities host a yearly career fair which Gable Hall pupils are invited to. Due to the resent restrictions this year the Careers Fair was hosted online.
https://www.thurrockopportunities.co.uk/virtual-careers-fair/
Our pupils benefit greatly from attending local careers fairs. They form a better understanding of the LMI of our local area. Thurrock Opportunities website have a great 'sectors' section where pupils can explore each employment sector individually.
https://www.thurrockopportunities.co.uk/
What Can I Do To Support My Son / Daughter?
Being a parent / carer it's important to understand all the available options open to your child, and what would best suit them.
Websites for supporting parents are linked below;
Also please keep an eye out on our school newsletter and Facebook page. This is where information will be posted regarding; college/sixth form open evenings, virtual work experience opportunities, career focused webinars and apprenticeship information.
If you need any assistance please contact careers@gablehall.com
What's Next After Ortu Gable Hall?
For some pupils making subject choices is a stressful and scary time, to choosing their GCSEs or A levels, Sixth Form or College, University or Apprenticeship?
Often it is helpful to think about the bigger picture and work back from there – look at a job advert you think you might be interested in and see what qualifications the employers are looking for. Often it is good to talk through your ideas with family and friends, your teachers - and do not forget, there are people in school to help you, too.
We have a large selection of Sixth Forms and Colleges available to our pupils. Below are links to their current courses available.
Statistics on Our Year 11 Leavers
Destination Data
| | | | | | | | |
| --- | --- | --- | --- | --- | --- | --- | --- |
| Year | 2021 | 2020 | 2019 | 2018 | 2017 | 2016 | 2015 |
| Remaining in full time education | 219 | 246 | 208 | 205 | 216 | 219 | 219 |
| Training | 4 | 1 | 6 | 5 | 3 | 1 | 0 |
| Full time employment (inc apprenticeships) | 18 | 10 | 16 | 26 | 12 | 14 | 13 |
| Full time employment (no structured training) | 2 | 3 | 2 | 3 | 5 | 3 | 5 |
| NEET active in the labour market | 0 | 0 | 6 | 6 | 3 | 4 | 3 |
| NEET not available to the labour market | 0 | 0 | 0 | 0 | 0 | 0 | 0 |
| Total Cohort | 243 | 261 | 238 | 245 | 239 | 241 | 240 |
| NEET Total | 0 | 0 | 6 | 6 | 3 | 4 | 3 |
| NEET Total % Gable Hall | 0% | 0% | 2.5% | 2.4% | 1.3% | 1.7% | 1.3% |
| NEET Total % Thurrock | 1.9% | | | | | | |
For the past 2 year Ortu Gable Hall is extremely proud of our 0 NEET Figure (Not in Education, Employment, or Training)
Employers
As an employer, if you would like to support our career's programme, we are always looking for people to provide mock interviews for our year 11 pupils; workshops for year 10 pupils; drop in 'spotlight on careers' sessions for those interested.
We are always looking for local companies who may be able to offer our students an opportunity of 'work experience' If you feel you would be able to support this in any way please contact Ms Jackson on 01375 400800 or via info@gablehall.com.